Judges Orders:

These 3-part white, carbonless, recycled Florida forms are offered in recordable and non-recordable formats. They are available for
Broward, Miami-Dade, Palm Beach, and Blank Circuits and Broward County. Customized 4 or 5 part forms are also available.
New Matter Reports:
These carbon 2-part intake forms are very useful in gathering new client history, billing, and administrative information.
New Matter Indexes:
The 4 part New Matter Indexes have been discontinued by the factory. Please see Blackstone's NEW CLIENT INDEX SOFTWARE AND FORMS as a replacement.  
The  New Matter Indexes 6-part, 3″ X 5″ form includes a card, dry-gum label, plus other copies. These carbon forms can be used to create an index file card, label for front of file, and duplicate information for cross referencing. These forms contain information regarding: client, matter, opposing counsel, and tickler dates.
New Client Index Software:
Blackstone's "New Client Index Template" has been designed to replace the New Matter Index, which has been designed to be handwritten or for use with a typewriter. Our template will work on any computer that has the free downloadable version of Adobe Acrobat installed. This template will allow you to enter the information into the computer and then print the 2 or 4 part completed "New Client Index" form on your printer. No more manual filling in the forms, and no more carbon paper. The information fillins include general case information, client contact information opposing counsel, ticker dates and more.
New Client Index Forms: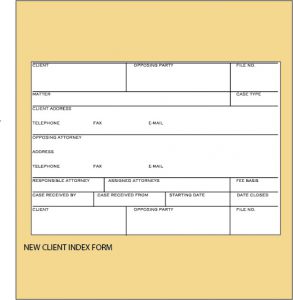 The "New Client Index" forms are printed from your template file using your computer printer, simply and easily. These are available in 2-part or 4-part and will tear down to 3″ x 5″x The 2-part form includes a self-stick label and a card. The 4-part form includes a self-stick label, 2 cards and a paper sheet. Both forms which will be printed with all the information can be used to create index cards, labels for file folders and duplicate information for cross referencing.
Quantities
50
100
500
Judges' Orders:
$27.15
$54.31
$254.79
New Matter Forms:
Reports
Indexes (6-part)

$60.42
$87.98

$225.00
$372.71


New Client Software:

Template (Single User)
Template (Multiple User)




$43.50 each
$59.60each
New Client Index Forms:
Forms (2-part )
Forms (4-part)
$56.47
$64.73
$274.91
$313.44


Exhibit Labels:
We offer five different types of exhibit labels in different colors:Exhibit-green, Defendant's Exhibit-yellow, Plaintiff's Exhibit-blue, Respondent's Exhibit-yellow, Petitioner's Exhibit-blue.
Litigation Labels:
These labels provide litigation case information at your fingertips. Captions include Style of Case, Opposing Attorneys, and Insurance Company. These white, self adhesive labels are convenient for use on any file folder.
FileBands:
A large rubber band, "FileBand" will wrap around your file both ways, horizontally and vertically. It holds all loose papers, forms etc. in place and prevents them from falling out the your file when transporting or mailing. This one band replaces binder clips, strings, etc. and anything else used to hold a file closed. FileBands are available for letter-sized, overfilled letter-sized and legal sized files.
Tickler Forms:
These carbonless reminders are very versatile. Use as few or as many of these carbonless forms together to eliminate duplicate writing or typing. They contain information regarding: due date, statue of limitation, notes and more. Writing boards are available for use with these forms.
Client Envelopes:
These brown Kraft envelopes are designed to be given to clients. They are very useful for the client to store papers and have important instructions regarding their case, printed on the front of the envelope. Also they are imprinted with your firm name and address and can be ordered in either English, Spanish, or Creole and in three different sizes: 7 1/2″ X 10 1/2″, 9″ X 12″ or 10″ X 15″.
Authority to Represent:
The Florida Authority to Represent forms for personal injury cases are all 2-part,white and yellow, carbonless, letter-sized and are available in "English or Spanish" .
Statement of Client's Rights:
The Florida Statement of Client's Rights forms are all 2-part, white and yellow,carbonless, letter-sized and are available in "English or Spanish" .
Quantities
50
100
500
Litigation Labels
$30.93
$53.64
$244.95
FileBands: 50 per box
Letter
Letter Oversized
Legal

$24.78
$25.49
$27.76

$49.56
$50.98
$55.51
$232.25
$240.74
$263.40
Exhibit Labels
$14.09
$43.36
Tickler Forms
$87.98
Forms Writing Board (1)
$65.29
each
Client Envelopes:
7 1/2″ X 10 1/2″
9″ X 12″
10″ X 15″
Set Up


$68.40
$92.19
$101.11


$281.26
$369.73
$413.97
$24.50
Authority to Represent, FL (English or Spanish)
Statement of Client's Rights, FL (English or Spanish)
$19.83
$19.83
$37.81
$37.81
$168.81
$168.81

Catalog Price List January 2023
TERMS: The terms for firms with open accounts is Net 30 Days. For all others with or without accounts, payments will be accepted by check, money order, AMERICAN EXPRESS, VISA, or MASTERCARD
SHIPPING CHARGES: Delivery charges will be charged on orders
FLORIDA SALES TAX: If applicable Florida Sales Tax will be added to orders.
BLACKSTONE Legal Supplies, Inc. reserves the right to add a 1 1/2% service charge on all accounts past due over 30 days. All prices listed are subject to change without prior notice.

Search Terms: Litigation, Orders of the Court, Client Intake Forms, New Client Intake Forms, Wmns534, Wnms536, Wlra53, Exhibit Sticker